Modernist Journal Records Now Searchable in Eight Centuries
28 September 2020 by Paratext Editorial
Product Updates | Eight Centuries | 19th Century | 20th Century | American Studies | European Studies | History | Literature | New Collections | 8C Product Updates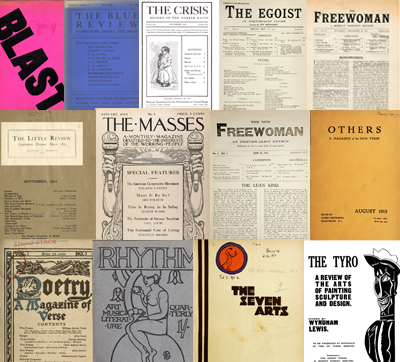 Paratext is pleased to announce that records from the Modernist Journals Project is now accessible via Eight Centuries.
The Modernist Journals Project (MJP) is joint cataloging and digitizing venture between Brown University and the University of Tulsa which comprises records of journal output of the modernist literary period from 1890 to 1922.
The MJP adds nearly ten thousand new periodical content records to Eight Centuries. Furthermore, in addition to the records themselves, MJP results in Eight Centuries include links to full text scans available on the project website.
See the modernist periodicals now represented in Eight Centuries:
Blast
Blue Review
Crisis
Egoist
Freewoman
Little Review
Masses
New Freewoman
Others
Poetry
Rhythm
Seven Arts
Tyro
Find records pertaining to modernist notables like Ezra Pound and William Butler Yeats—as well as less to well-known but still important writers like Alice Corbin—in their original context.
This resource is invaluable to long-nineteenth century and early twentieth century researchers across multiple disciplines. Begin searching today.
---
Users of Eight Centuries can access entries from the Modernist Journals Project. Check your institution's database subscriptions to find if you have access to Eight Centuries, or sign up for a free trial at https://public.paratext.com/customer/.